How To Wait

An Anthology of Transition
"How To Wait" Collects the work of 30 trans, nonbinary, and gender non-conforming artists as they attempt to cope with the myriad forms of waiting that come with their experiences of gender.
Edited by Sage Persing
Cover by Ranafarba
Contributors:
Gabriel Howell, AJ Rio-Glick, E.L. Tedana, Allspice, Erin Nations, Joris Bas Backer, Sam Owens, Maia Kobabe, Samuel Luke, Krysta Morningstarr-Cox, Oliver Northwood, Indie Beare, Laurel Lynne Leake, Mister Loki, Ash Wadi, Kou Chen, Sage Persing, Kat Ghastly, Will Betke-Brunswick, Simon Williamson, Veronica Casson, Joa Blumenkranz, Charlie Davies, Jae Zander Kitinoja, Jamie Diaz, Sonya Saturday, Oce, Ajuan Mance, Kimball Anderson, Maia Vleck

This book contains Sonya's short story "I Wrote This About Myself."
Publisher: Sage Persing (2019)
Stacked Deck Press Coloring Books

Stacked Deck Press was founded in 2015 to cultivate diversity and excellence in LGBTQAIU comics publishing.
Sonya has contributed illustrations to four coloring books from Stacked Deck Press.
We're Still Here

An All-Trans Comics Anthology
The first anthology of its kind, We're Still Here: An All-Trans Comics Anthology offers dozens of new stories that render trans experiences in comics form: some fiction, some nonfiction, some sad, some thoughtful, some funny, some bizarre, all authentic. Edited by Jeanne Thornton and Tara Avery.
Sonya contributed the short story "Where Have I Been All My Life?" to We're Still Here.
Publisher: Stacked Deck Press (2018)
ISBN13: 978-0997048773
Mine!
A comics collection to benefit Planned Parenthood
Planned Parenthood, and the millions of people they help each year, need every bit of help they can get. Mine! is a comics anthology with the proceeds going to Planned Parenthood. With stories about trailblazing women, civil rights leaders, a person's first time going to a PP clinic, debunking myths about sex, STI screenings, HIV/AIDS treatment and prevention, fantastical stories with superheroes, Greek mythology, and a future both with and without Planned Parenthood.
"an anthology that's both entertaining and informative in equal measure..." Newsarama
"The Mine! anthology is thought-provoking and powerful. It is filled with stories expressing a broad and diverse range of topics from the importance and history of Planned Parenthood, feminism, compassion and understanding, and so much more, and I think it's safe to say this is a worthy entry for anyone's bookshelf. It's beautiful, painful, sad, and celebratory all at once, and makes for powerful reading." Bleeding Cool
Sonya contributed the short piece "If I Don't Want To Do It" to Mine!
Publisher: ComicMix (2018)
Alphabet

An Anthology from the LGBTQIA Creators of Prism Comics
THE MOST DIVERSE GROUP OF QUEER CARTOONISTS SHOW THEIR STUFF IN ONE GIANT HARDBACK ANTHOLOGY!
ALPHABET was born from a scrappy little non profit that promotes LGBTQAI comics. Every year
Prism Comics
gives out the Queer Press Grant, but we thought we could do so much more. The Prism Comics Queer Press Grant is an annual financial grant that helps queer comics creators self publish their graphic novels, web comics, and zines. The grant is awarded to one creator, but many talented queer cartoonists apply every year. ALPHABET showcases these artists in a big sexy hard back anthology, giving them a well deserved boost to their comics careers.
ALPHABET is edited by Prism Queer Grant Chair Jon Macy (Fearful Hunter) and Prism Treasurer and Stacked Deck Press Publisher Tara Avery. This is Stacked Deck Press's debut publication.
Sonya contributed the eight-page autobiographical story "How Come You Don't Want Me?" to this anthology.
Publisher: Stacked Deck Press (2016)
ISBN13: 978-0997048711
Mama Tits Saves The World

A Comic Book Starring Seattle's Most Famous Activist Queen!
Can one Pacific Northwest drag queen prevail in the fight against hate? With your help… she can! Writer Charles "Zan" Christensen and artist Terry Blas—along with some guest artists—take Seattle's most famous activist queen to a new level in the new comic book MAMA TITS SAVES THE WORLD!
Bonus pages by
Sonya Saturday
Diego Gomez
Justin Hall
Sonya created four activity pages for this book.
Publisher: Northwest Press (2016)
ISBN13: 978-1943890354
Anything That Loves

Comics Beyond "Gay" and "Straight"
From confessional, personal accounts to erotic flights of fancy to undersea identity politics, this collection of comics invites the reader to step outside of the categories and explore the wild and wonderful uncharted territory between "gay" and "straight".
Featuring comics and illustrations by Adam Pruett, Agnes Czaja, Alex Dahm, Amy T. Falcone, Ashley Cook & Caroline Hobbs, Bill Roundy, Ellen Forney, Erika Moen, Jason A. Quest, Jason Thompson, John Lustig, Jon Macy, Josh Trujillo & Dave Valeza, Kate Leth, Kevin Boze, Leanne Franson, Leia Weathington, Lena H. Chandhok, Margreet de Heer, MariNaomi, Maurice Vellekoop, Melaina, Nick Leonard, Powflip, Randall Kirby, Roberta Gregory, Sam Orchard, Sonya Saturday, Stasia Burrington, Steve Orlando, Tania Walker, and Tara Madison Avery & Mike Sullivan.
Featuring an introduction by editor Charles "Zan" Christensen and a foreword by PoMoSexuals author Carol Queen, PhD.
216 pages. 7″x10″. Full color.
Royalties from the sale of this book are being donated to 
Prism Comics
, the nonprofit organization that's been helping LGBT comics, creators, and readers for over ten years!
Sonya contributed two short autobiographical comics to this anthology.
Publisher: Northwest Press (2013)
ISBN13: 978-1938720321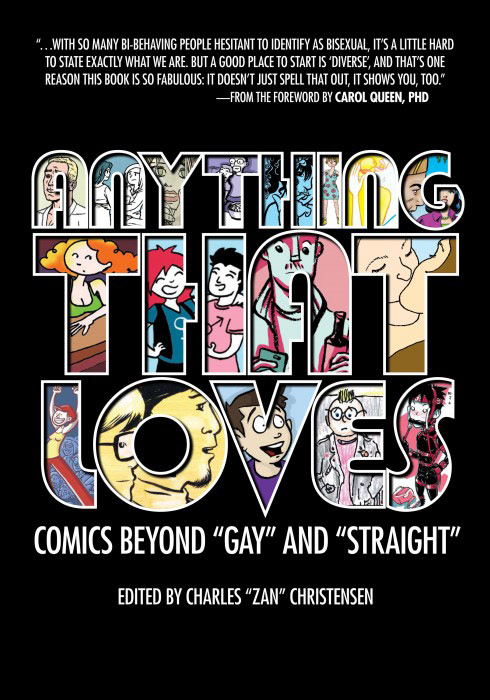 Sex Kittens

Sexy cartoon-style pinup art featuring nude cat-women and a few bunnies
8" x 10", 24 pages
Color cover with color interior
Paperback
Publisher: Load World Comics (2009)
Why Do You Cry When I'm On Top?

Delightfully Sex-Obsessed Comics
From 2000 to 2009 Sonya Saturday wrote, drew and published comics under the Load World Comics banner.
LWC's flagship work was the long-running comic strip LOAD. What started out as a random absurdist strip eventually turned into a comic solely focused on finding humor in sex and relationships. LOAD was run in several independent publications, both in print and online. Over 70 of the best LOAD comics are collected in the book "Why Do You Cry When I'm On Top?" 
Publisher: Load World Comics (2008)
Pope & Pig

Follow the underground comedy duo's adventures through sex and love
Pope & Pig is a funny comic book mini-series for adults. Three issues. Grey-toned interiors with color covers.
Publisher: Load World Comics (2004)